Historic Headstone Set at Champion Hill
By Rebecca Blackwell Drake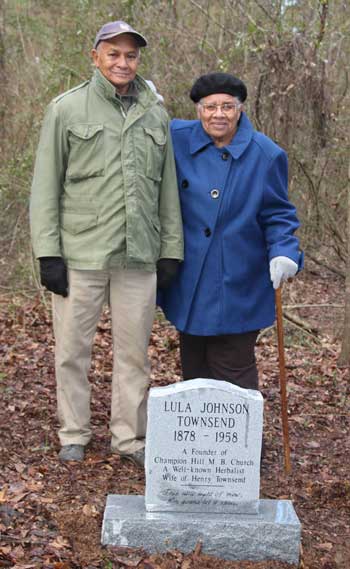 Early on the morning of December 12, 2012, trucks and cars began pulling onto Midway Station road, located on the Champion family property. The guests had come to witness the setting of a long overdue headstone for Lula Johnson Townsend, turn of the century matriarch of the Champion Hill community. A light frost covered the ground, casting a shimmering beauty throughout the woods.
The vehicles maneuvered the sunken roadbed before parking in view of an 1840s cemetery. The burial site, accentuated by broken headstones scattered amidst the fallen leaves, held the remains of those who had passed away long ago.
The last vehicle to pull through the gate and up to the cemetery was a company truck from Yazoo City. The truck's precious cargo was a newly inscribed headstone for Lula Townsend who was born at Champion Hill in 1878, one year after the close of the Reconstruction Era, and lived at Champion Hill until her death in 1958. She was widely recognized as a "mover and shaker" in the black community.
Ernestine Leach and Johnnie Lewis, niece and nephew of "Aunt Lula," were among the first to arrive at the cemetery. Lula had nurtured Johnnie and Ernestine as children and in doing so, imparted her vast knowledge of Champion Hill as well as her association with early members of the Champion family. Ernestine now lives in Bolton while Johnnie continues to live at Champion Hill where he owns a major portion of the Champion Hill battlefield. Johnnie often comments, "There's not a thing about Champion Hill that I don't know," a statement that represents the absolute truth.
Dressed in a heavy blue coat and walking slowly with a cane, Ernestine made her way through the frost-covered grounds to the unmarked gravesite where she vividly remembered burying her beloved aunt in 1958. Lula had been laid to rest beside her husband, Henry Townsend, who died in 1946. As workers set the newly inscribed headstone, Ernestine exclaimed, "Today is our Christmas! For over a half-century, we hoped and prayed that the day would come when we could mark Aunt Lula's grave. God bless all of you who made this day possible."
Aunt Lula was born at Champion Hill twenty-three years after the close of the Civil War. Known for her energy, enthusiasm, creativity, insightfulness and her interest in medicinal herbs, she soon became indispensable to the Champion family. She was also a founder of Champion Hill Baptist Church built in 1897. Last year, during a Champion Heritage Foundation meeting, Johnnie and Ernestine presented a delightful and informative oral history of Champion Hill, including some of Aunt Lula's recollections of Champion Hill in years long past. After the presentation, everyone present agreed that it was time that the Champion Heritage Foundation provide a headstone for Aunt Lula.
Ernestine proudly told how Lula helped organize and fund the building of the first Champion Hill Church in 1897: "The church was built on the site where the Champion plantation home was burned after the Siege of Vicksburg. Early on, Aunt Lula went to Sid Champion Jr. [the youngest son of Sid and Matilda Champion] and told him that she and other church members needed help to raise money to build a church. Sid suggested growing produce and offered the use of his land for the garden. When the garden was harvested, he then provided the wagon and mules to haul the produce to Bolton to be sold. Over time, church members accumulated the necessary money for the building of the church. Sadly, Sid Jr. died of yellow fever the same year that the church was built."
Earnestine also recalled how Lula was indispensable to the Champion Hill community, especially when it came to her knowledge of herbs used to treat various illnesses: "If anything happened that needed medical attention, Aunt Lula was always called on to help, said Earnestine. She was well-known as a midwife but she also treated other problems - snake bites, heart problems, toothaches and even heat strokes. One hot day, Sid Champion III, the son of Sid Jr., was working in the 'bottom field' when he fell sick. Afraid he might be dying, he sent for Lula. She rushed to the scene and gave him a concoction of herbs - then sat with him until the ambulance came. No one knew what herbs were given but Lula was credited with helping to save Sid's life."
In 1958, when death claimed Lula at the age of 80, she was laid to rest beside her husband in the old plantation-era cemetery. For 54 years, her grave remained unmarked.
The headstone provided by the Champion Heritage Foundation is a tribute to Lula for her life-time devotion to the community. The inscription reads: Lula Townsend Johnson, 1878-1958. A founder of Champion Hill M.B. Church, a well-known Herbalist and Wife of Henry Townsend. Inscribed at the base of the headstone are the lyrics of the song Lula loved to sing, This Little light of mine, I'm gonna let it shine.
Those who gathered to be a part of the historic headstone dedication were: Ernestine Leach and her brother, Johnnie Lewis; Johnnie's daughter, Bertha Lewis, and son, Johnnie Lewis Jr.; Sid Champion V, property owner; Dan Mashburn of Bolton and his son, Danny Mashburn; Charlie Carlisle, board member with the Champion Heritage Foundation and Rebecca Drake, board member and local historian.
This coming May 18, 2013, as a part of the Sesquicentennial Celebrations at Champion Hill, Earnestine Leach will be present at the site of Aunt Lula's grave to share some of the history. A friend will sing This Little Light of Mine, I'm Gonna Let it Shine in memory of Lula who, in earlier times, helped to change the landscape of the Champion Hill community.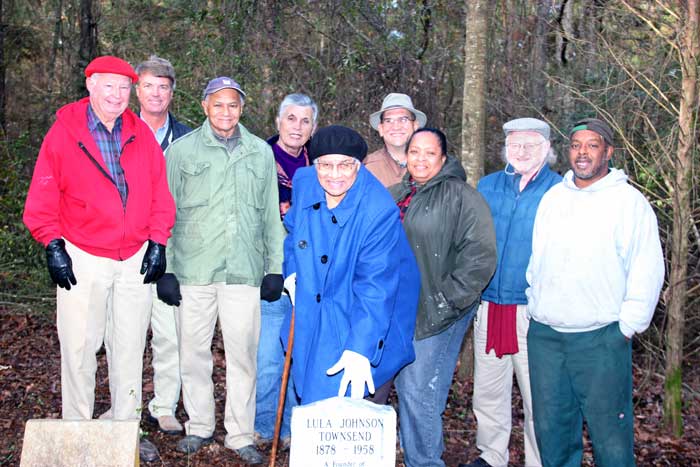 Pictured left to right: Dan Mashburn, Donnie Mashburn, Johnnie Lewis, Rebecca Drake,
Ernestine Leach, Sid Champion, Bertha Lewis, Charlie Carlisle and Johnnie Lewis, Jr.