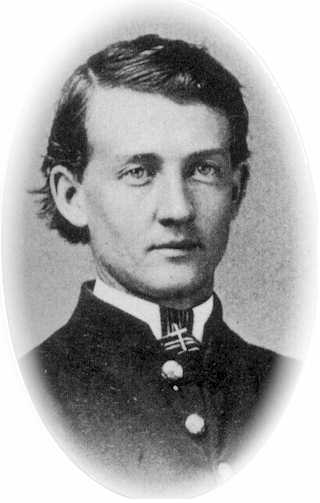 May 13th. -Up early and on the march to Jackson, as we suppose. I dreamed of my bunk-mate last night. Wonder if his remains will be put where they can be found, for I would like, if I ever get the chance, to put a board with his name on it at the head of his grave.
When we enlisted we all paired off, each selecting his comrade - such a one as would be congenial and agreeable to him - and as yesterday's battle broke a good many such bonds, new ties have been forming, as the boys say, new couples are getting married. If married people could always live as congenial and content as two soldiers sleeping under the same blanket, there would be more happiness in the world. I shall await the return of one of the wounded.
When the regiment was being mustered out in July, 1865, Thomas Runyan, who had been left for dead, visited the regiment. He said he came "to see the boys." He was, of course, totally blind.
We arrived at Clinton after dark, a place on the Jackson and Vicksburg railroad. Yesterday a train ran through, the last that will ever be run by confederates. The orders are to destroy the road here in each direction. We expected to have to fight for this spot, but instead we took possession unmolested. "Cotton is king," and finding a good deal here, we have made our beds of it.
May 14th. -Started again this morning for Jackson. When within five miles of the city we heard heavy firing. It has rained hard to-day and we have had both a wet and muddy time, pushing at the heavy artillery and provision wagons accompanying us when they stuck in the mud. The rain came down in perfect torrents. What a sight! Ambulances creeping along at the side of the track - artillery toiling in the deep ruts, while Generals with their aids and orderlies splashed mud and water in every direction in passing. We were all wet to the skin, but plodded on patiently, for the love of country.
When within a few miles of Jackson, the news reached us that Sherman had slipped round to the right and captured the place, and the shout that went up from the men on the receipt of that news was invigorating to them in the midst of trouble. I think they could have been heard in Jackson. Sherman's army at the right and McPherson in our immediate front, with one desperate charge we ran without stopping till we reached the town. The flower of the confederate forces, the pride of Southern States who had never known defeat, came up to Jackson last night to help demolish Grant's army, but for once they failed. Veterans of Georgia stationed as reserves were also forced to yield in dismay, and never stopped retreating till they had passed far south of the Capital which they had striven so valiantly to defend. To-night the stars and stripes float proudly over the cupola of the seat of government of Mississippi - and if my own regiment has not had a chance to-day to cover itself with glory it has with mud.
I shall not soon forget the conversation I have had with a wounded rebel. He said that his regiment last night was full of men who had never before met us, and who felt sure it would be easy to whip us. How they were deceived! He said part of his regiment was behind a hedge fence, where they felt comparatively safe, but the Yankees jumped right over without stopping, and swept everything before them. I never saw finer looking men than the killed and wounded rebels of to-day, and with the smooth face of one of them, lying in a garden mortally wounded, I was so taken, that I eased his thirst with a drink from my own canteen. His piteous glance at me at that time I shall never forget. It is on the battle field and among the dead and dying we get to know each other better - nay, even our own selves. Administering to a stranger, we think of his mother's love, as dear to him as our own to us. When the fight is over, away all bitterness. Let us leave with the foe some tokens of good will, that, when the cruel war at last is over, may be kindly remembered. I trust our enemies may yet be led to hail in good faith the return of peace and the restoration of the Union. This is a domestic war, the saddest of all, being fought between those whose hearts should be as brothers; and when it is at an end, may those hearts again throb together beneath the folds of the flag that once waved for defense over their sires and themselves - a flag whose proud motto will be, "peace on earth and good will to men." Some of the boys went down into the city to view our new possession. It seems ablaze, but I trust only public property is being destroyed, or such as might aid and comfort the enemy here-after.
I am very tired, and of course can easily get excused, so I will go to my bed on the ground.
May 15th. -The familiar "Attention, battalion!" was heard from our Colonel, when we marched back upon the same road that had led us to Jackson, camping as usual at dark. We passed through Clinton, and the inhabitants were surprised to see us returning so soon, for they fully expected to hear of our being defeated and driven back. But they did not know our metal. The last few days have been full of excitement, and although we have marched and fought hard, and lost some of our best men, besides getting tired and hungry ourselves, we are more resolved than ever to keep the ball rolling. The thinner our ranks are made by fighting and disease, the closer together the remnants are brought. We shall close up the ranks and press forward until the foe is vanquished. Soldiers grow more friendly as they are brought better to realize the terrible ravages of war. As Colonel Force called us to "Attention!" this morning, one of the boys remarked, "I love that man more than ever." Yes, we have good reason to be proud of our Colonel, for upon all occasions we are treated by him as volunteers enlisted in war from pure love of country, and not regulars, drawn into service from various other motives, in time of peace.
May 16th. -We rolled out of bed this morning early, and had our breakfast of slapjacks made of flour, salt and water, which lie on a man's stomach like cakes of lead - for we are out of all rations but flour and salt, though we hope soon for some variety. We heard heavy firing about eleven o'clock. Our division reached Champion Hill about two p.m., and filed into a field on the right of the road. We were drawn up in a line facing the woods through which ran the road we had just left. It was by this road the rebels came out of Vicksburg to whip us. We had orders to lie down. The command was obeyed with alacrity, for bullets were already whizzing over our heads. I never hugged Dixie's soil as close as I have to-day. We crowded together as tight as we could, fairly plowing our faces into the ground. Occasionally a ball would pick its man in spite of precaution, and he would have to slip to the rear. Soon we got orders to rise up, and in an instant every man was on his feet. If the former order was well obeyed, the latter was equally so. The enemy charged out of the woods in front of us in a solid line, and as they were climbing the fence between us, which separated the open field from the timber, DeGolier's battery, stationed in our front, opened on them with grape and canister, and completely annihilated men and fence and forced the enemy to fall back. Such terrible execution by a battery I never saw. It seemed as if every shell burst just as it reached the fence, and rails and rebs flew into the air together. They, finding our center too strong, renewed their charge on our left, and succeeded in driving it a short distance, but their success was only for a moment, for our boys rallied, and with reinforcements drove them in turn. We now charged into the woods and drove them a little ways, and as we charged over the spot so lately occupied by the foe, we saw the destruction caused by our battery, the ground being covered thickly with rebel grey. When we reached the woods we were exposed to a galling fire, and were at one time nearly surrounded but we fought there hard until our ammunition was exhausted, when we fixed bayonets and prepared to hold our ground. A fresh supply of ammunition soon came up, when we felt all was well with us again. Meanwhile the right of our line succeeded in getting around to their left, when the enemy retreated forwards Vicksburg, lest they should be cut off.
The battle to-day was commenced early in the morning by McClernand's great fighting corps, and was a hot and severe contest, until Logan's division approached the road on the Confederate's left, between them and Vicksburg, when the foe wavered and began to break.
This was a hard day's fight, for the rebels, finding that they had been beaten in three battles about Vicksburg, had no doubt resolved to make a desperate stand against our conquering march; but alas! For them, this day's course of events was like the rest. When the fight was over, Generals Grant, McClernand, Sherman, McPherson and Logan rode over the victorious field, greeted with the wildest cheers. I wonder if they love their men as we love them. We received our mail an hour or two after the fight, and the fierce struggle through which we had just passed was forgotten as we read the news from home. Our fingers fresh from the field left powder marks on the white messengers that had come to cheer us.
Our forces captured eleven pieces of artillery and over one thousand prisoners. The retreating army will make another stand, but we shall move right on, undaunted. Several amusing incidents have occurred during the battle to-day. Company A, of the 20th, was sent out to skirmish, and moved forward till they could see the enemy. By this time General Logan made his appearance, when one of the boys who wished to go into the fight without impediments, approached Logan and said, "General, shall we not unsling knapsacks?" "No," was the stern reply, "damn them, you can whip them with your knapsacks on." This same company, in full view of a rebel battery, had taken refuge in a deep ditch, and when afterward the rebel captain cried out, "ready, take aim," Mit. Bryant, feeling secure in his position, interrupted the order with a shout, "shoot away and be damned to you."
We moved up through the woods to the road again after the fight, where we halted an hour. Near the road was a farm house which was immediately taken possession of for a hospital.
related link
A Portrait of Osborn H. I. Oldroyd