Tribute To General Lloyd Tilghman
from
Confederate Veteran, July, 1910
with comments by
L. S. Flatau
Cowan's Battery, First Mississippi Light Artillery
from
Confederate Veteran, September, 1910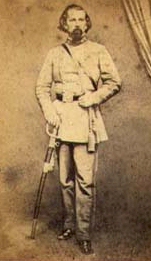 Brigadier General Lloyd Tilghman
1816-1863

General Tilghman was born in Maryland in 1817. He was a graduate of West Point in 1836, a soldier in the Mexican War, a civil engineer upon the Panama Railroad in 1849 and subsequently upon the Baltimore and Ohio, Cumberland Valley, Pennsylvania Central, East Tennessee and Virginia, and new Orleans and Ohio Railroads, and commander of the Kentucky State Guard in 1861, most of whom he took into the Confederate service. He was colonel of the 3d Kentucky Regiment and promoted to brigadier general. After a vigorous defense he surrendered Fort Henry February 6, 1862, to Admiral Foote and was sent a prisoner of at Fort Warren, in Boston Harbor. On being exchanged he was placed in charge of exchanged prisoners at Jackson, where he reorganized and equipped them for the field. He led them against Grant's forces at Coffeyville, and signally defeated them on December 5, 1862. He served in the Vicksburg campaign to May 16, 1863, at Champion Hill, where he lost his life.

Extract from report of his division commander, Gen. W. W. Loring: "As soon as the enemy discovered that we were leaving the field he rallied and moved forward in heavy force. General Tilghman had been instructed to hold a point on the Edwards Depot and Raymond road at all hazards. Always ready to obey orders, he soon met the enemy, 6,000 to 8,000 strong, with a fine artillery; him, being advantageously posted, he not only held him in check but repulsed him on several occasions, and thus kept open the only line of retreat left to the army. The bold stand of this brigade, less than 1,500 effective men, under the lamented hero, saved a large portion of the army. It is befitting that I should speak of that death of gallant and accomplished Lloyd Tilghman. Quick and bold in the execution of his plans, he fell in the midst of his brigade that loved him well, after repelling a powerful enemy in deadly fight, struck by a cannon shot: A brigade wept over the dying hero, alike beautiful as it was touching."

Extracts from the report of Col. A. F. Reynolds, who succeeded Tilghman: "At 5:20 o'clock Brig. Gen. Lloyd Tilghman who up to that time had commanded the brigade with marked ability, fell, killed by a shot from one of the enemy's guns. I cannot here refrain from paying a slight tribute to the memory of my late commander. As a man, a soldier, and a general, he had few if any superiors. Always at his post he devoted himself day and night to the interests of his command. Upon the battlefield he was cool and collected and observant. He commanded the entire respect and confidence of every officer and soldier under him, and the only censure ever cast upon him was that he always exposed himself too recklessly. At the time he was struck down he was standing in the rear of a battery directing a charge in the elevation of one of the guns. The tears shed by his men on the occasion and the grief felt by his entire brigade are the proudest tribute that can be given the gallant dead."

General Tilghman was one of the most picturesque figures of the Confederate army. He was very handsome and a strict disciplinarian. Untrained soldiers winced at his discipline, but they realized under him that war was not a frolic. One particular day has often been recalled when the army at Vicksburg was reviewed by General Pemberton. At the inspection of General Tilghman's brigade his men were so thoroughly at duty that General Pemberton stopped at intervals to comment in complimentary terms. One instance is reported from the Veteran for February 1910: "General Pemberton was escorted by Gen. Lloyd Tilghman. When riding briskly along the line, General Pemberton reigned his horse suddenly and stopped in front of the 41st Tennessee. He pointed to Fohrer and asked: "What soldier is that?" He was informed as to the man, whose position in line was that of a faultless soldier. His gun looked like burnished silver - doubtless the only one like it in the army. General Pemberton then looked along the line and said: "I'll sw'ar, that is a fine-looking body of men.' Fohrer was tidy and neat of dress, but he would sleep with his boots on. In complains concerning poor fare, etc., he emphasized his displeasure with 'Be dam;' but it was not like English spoken profanity and did not seem wicked as he would say it."

When General Tilghman offered his life in defense of the cause of the South as he heroically resisted the advance of Grant's victorious legions, he wrought with his own blood on the sluggish banks of Baker's Creek an epitaph which will not be forgotten as long as the bronze statue lasts to remind all who see it of his intrepid courage and gallantry.

Comrade W. G. Whitefield, who was first sergeant of Company D, 35th Alabama Regiment, Buford's Brigade, Loring's Division, and is now Adjutant of Camp 463, UCV at Paducah, Ky., writes: "I was on the run passing out just behind General Tilghman when he was killed. In November, 1908, I went to Champion Hill and located the place."

The gallant commander and his brave men must be honored while patriotism has an advocate and self-sacrifice for others has a votary. Higher commendation from a higher source no citizen or soldier ever received.
---
L. S. Flatau
Cowan's Battery, First Mississippi Light Artillery
from
Confederate Veteran, September, 1910
I have read that most interesting article in the Veteran in regard to General Tilghman. General Tilghman was a most daring, dashing, splendid officer, and we were often fearful that he would be killed. I belonged to Cowan's Battery of Vicksburg, Miss., referred to in the sketch. I was the gunner directing and sighting the gun at the time by the advice of General Tilghman, who had perfect knowledge of the situation of the enemy through his field glasses. His last words to any one were in the highest compliment to me, praising my excellent marksmanship, except the words he spoke as he fell from his horse after a three-inch rifle shot had cut him nearly in two, and as he careened and fell he said to his son, who caught him, "Tell your mother; God bless her." [At General Tilghman's side when he was shot was his nephew, Oswald Tilghman, who was also Tilghman's Aide-de-Camp. If Tilghman actually said, 'Tell your mother, God bless her,' then the final words would have been meant for Oswald's mother and not his own.]
He was at that time near my guns, but had turned to ride down the line and was fully exposed to the fire of the enemy from small arms as well as a splendid battery that we had been dueling with for at least half an hour, and under his directions, we had silenced it. Any one that was there will surely recollect that the entire line was driven back almost in our rear, and we held every inch of the ground until sundown, and this we did because of the wonderful encouragement and splendid management of this gallant chieftain who gave his life for our Southland.
The stone that has been placed at the spot where he fell marks not only the ground stained with his blood but also marks the spot where Cowan's Vicksburg Battery did such fine execution under his direction. After his death that line was so neglected that the enemy had almost cut our retreat off from Vicksburg. We were huddled that night in the creek bottom and were forced to abandon our guns. Part of Loring's Division went into Vicksburg and part of it went out with General Loring. Our battery was divided, part of it following First Lt. George Tompkins, the other part following Captain Cowan into Vicksburg. We were all in darkness and disorder, and hardly knew what we were doing or who we were following until late the next day.
Had this splendid officer lived, Loring's Division would have gone into Vicksburg in good order with the balance of the army that met the Yankees at Baker's Creek. His death at that time surely was a great shock to all of us, and no men ever felt the loss of a commander more than we did then.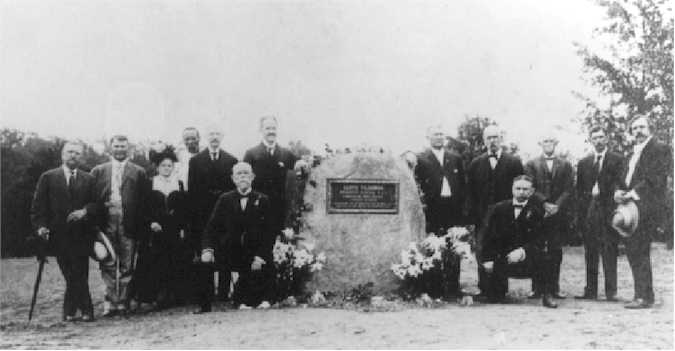 Photograph taken at the dedication of the Lloyd Tilghman Monument on May 18, 1909. Pictured left to right: the two men on the far left are thought to be Sid Thomas and W. M. Robb from Edwards; florist (woman), from Vicksburg; Ike Caston (colored man standing behind the florist), property owner; Tilghman brothers lawyer and banker from New York standing behind Tilghman who is kneeling to the left of the stone; Oswald Tilghman, nephew of the general, standing to the right of the stone; William Rigby, superintendent of the Vicksburg National Military Park; the other Tilghman brother kneeling; Captain William T. Ratliff, third from right; J. W. Ratliff, second from right; and Henry Howard Kitson, famous sculptor from Boston, on the end.
Mississippi Department of Archives and History

Historical sources: Confederate Veteran, Sept. 1910, and a 1907 document presented to the Jackson Civil War Roundtable by Mrs. Louise Gervin Windham, whose family purchased the property in 1932. Author, J. G. Spencer, was a private with Cowan's Battery, First Mississippi Light Artillery, in the Battle of Champion Hill. Most likely Spencer was one of the men in the 1907 dedication photograph but he was not identified at the time. Ownership of the Coker House is presently being transferred from the Jackson Civil War Roundtable to the Mississippi Dept. of Archives and History. The historic property was donated to the Jackson Roundtable in 1985 by Cal-Maine Foods, Fred Adams, president.