Champion Hill: "Eulogy to Margie"
May 5, 2007
A fond remembrance of Margie Riddle Bearss by William R. "Billy" Ellis, III,
a former student of Margie Bearss (1956), a retired banker from Lexington, MS
and a devoted Civil War Buff.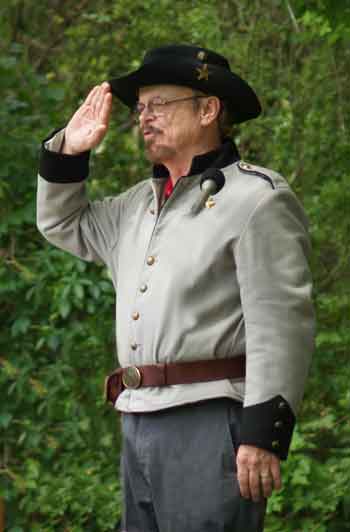 Billy Ellis, student of Margie's at Lexington High School, class of 1956, greets the crowd before reading his poem, Champion Hill, which he dedicated to Margie as a teenager. Billy also held the audience spellbound as he read his Eulogy to Margie.
The year was 1956. The junior high class of Lexington, MS High School anxiously awaited the arrival of their new English teacher. One of the students affected a fierce scowl when he was apprehensive. As Miss Margie Riddle scan swept the class she instantly noted the scowling student and made him sit on the front row so, as she said, "I could figure him out better!"
This began an exciting friendship with Margie that I still cherish after fifty-one years.
If Margie was my all time favorite teacher, I was always her favorite student and she is one of the most unforgettable characters I have ever met. Her well-chiseled features could wax stern in an instant and she brooked no laxness in her classes. This purveyor of discipline also had a mischievous glint in her eyes that was coupled with a wonderful dry wit.
Margie soon discerned that the kid with the scowl also had a devilish smile and a hankering to learn creative writing, poetry, and of course Civil War history which Margie always wove into her English classes.
A short time later a man entered Miss Riddle's life but she admitted to me that she was first taken aback by his staccato speech and his Semper Fi swagger.
When Ed Bearss gave Margie a cannon ball on their second date instead of a bouquet of flowers she started to fall for this unique character.
But still true to her old South, Blue Mountain College traditions, she decided that she needed a chaperone on their early dates. All of the saints must have smiled on me right then because she chose me to accompany her and Ed on some of their most exciting excursions.
The first chaperoned date that I tagged along on was to Champion Hill where Ed, just promoted to chief historian of the Vicksburg National Military Park, gave us the most exquisitely crafted tour that I have ever seen him do. One highlight of the day comes to mind: on the old road that traverses the very top of Champion Hill at the defense position held by Confederate General Carter Stevenson, we stopped at a fine dog-trot house occupied by a venerable old black gentleman who was contentedly rocking on his porch which was littered with tin cans of Minnie balls and other plowed up treasures from the battlefield, some of which I still have in my collection to this day. When asked if he had any other relics he rocked back and replied, "Last week I picked up one of them squared off belt buckles with CSA on it." When the power of speech returned to me I asked, "Do you still have it?" "Nawsuh," he replied, "some Yankee-talking man came by here yesterday and paid a lot of money for that buckle!" "How much" I murmured. "A new twenty-dollar bill" he happily exclaimed. I still remember that $4,000 buckle that got away!
Soon after that I stood on the bank of the Yazoo River with Margie as the Union Battleship Cairo was raised. Margie and Ed had the major part in discovering, raising and restoring the gun boat which was sunk by a Rebel mine on my birthday, December 12th; but 1862 instead of 1940.
Throughout Margie's subsequent life and marriage to Ed and three fine children, Margie and I never let our friendship dwindle. When she was writing one of her brilliant, meticulously researched Civil War books, she always excitedly phoned to tell me about it and when I wrote my two books I likewise called her.
My first book Hunter to the Dawn was dedicated to Margie with the postscript; "Margie instill in me a love for the printed word even though she was totally unable to teach me to speak it properly!" I speak deer-camp gothic.
When I gave the final poetic elegy at the dedication of the monuments to the Eleventh Mississippi at Gettysburg, I dedicated the poem to Margie. Her favorite poem, however, that I ever wrote was titled The Puddin Stone which gave the background history of the huge rough old marker at Gettysburg dedicated to the Twentieth Massachusetts. Margie always taught me to honor the soldiers of the blue as well as the gray.
Margie Riddle Bearss was a true Southern lady and a Civil War scholar of the highest order and she touched the lives of her many students and friends throughout America.
Margie once confided in me that she loved to stand atop Champion Hill when a big thunder storm was crashing overhead and she reveled in the thunder and lightening which recreated in her vivid imagination the thunder of the cannon fire and she was transfixed by that power. We who knew and loved her will always be transfixed by the power of her memory.
So for now, Margie, I hold your memory dear in my heart as I remember a line from your favorite Keats poem Ode to the Grecian Urn:
"Heard melodies are sweet, but those unheard
Are sweeter; therefore, ye soft pipes, play on."
Your memory will always "play on" in the hearts of those who loved you.